E-commerce is for all
There's only a small step from a web site to selling online. It's so simple to integrate a WooCommerce web shop in a WordPress site. You can keep the relevant page content, your front page may be the previous site front, or the new shop page. You can sell physical, downloadable, or virtual products, like courses or training. One product is enough for a start. The shop may be a unobtrusive way to accept registrations (and money), or a market with a wide selection, even multiple vendors. You decide.
The Stall is a compact site, built with web shop features. It gets you off the ground, and can be further expanded with content like a blog, educational articles, or whatever you come up with.
The Stall has no products, but one sample product as a template. If you require help in creating the products, importing them from other systems, or integrating POS systems, we'll be glad to help.
Your product can be anything you like; goods, files or immaterial services. You can also decide, where geographically it is available.
Oh, the shop doesn't have to be public! You may choose to sell only to your resellers or service partners.
Learn what we've done already.
A new small site built into a web shop. Compact, but gets the money moving. Payment and logistics channels integrated. Expandable to whatever you grow into.
The Stall has
A shop page, shopping cart, checkout, and a few pages for your content
Backoffice for handling orders, inventory, products and shop coupons
Sales and inventory reports in the backoffice
Payment methods and delivery methods integrated
One sample product to help you create more
My Page for logged in clients
Delivery terms and Privacy policy
Your To-Do
Agreement for the payment channel
Agreement for the logistics services (deliveries)
Creating your products (we can help)
Creating page content (we can help here too)
Setting up a web shop
In addition to commercial and target segment considerations, the shopkeeper-to-be has a few technical arrangements to keep in mind. You can't avoid to agree on payment channels with a payment channel operator, to be able to receive payments in your shop. If you send out physical products, it's also a good idea to agree on logistics services. It is of course possible to purchase parcel deliveries one by one on your own, but it is a million times easier to integrate parcel services into the shop checkout. Once you have the agreements, Dynamit glues the bits and pieces together into a working shop. As simple as that.
Finnish payment channel operators are at least:
Web shop logistics providers are at least:
The idea of web shop logistics services is to acquire all logistics services in one go. You could provide the client the options e.g. to use Posti or Matkahuolto, and choose home delivery or a pick-up point of their own choosing. As the shop-keeper, you create all deliveries alike in the shop backoffice, and pay for all of them in one invoice. You only need to print out the delivery slips and drop off the parcels to the chosen parcel service.
It's also advisable to learn some WordPress and WooCommerce backoffice usage, at least to the extent of handling the orders. Sales, coupon discounts and inventory management are also important skills to have. So you need to learn a few tricks, but that's not too difficult at all. We'll help you off the ground, and further.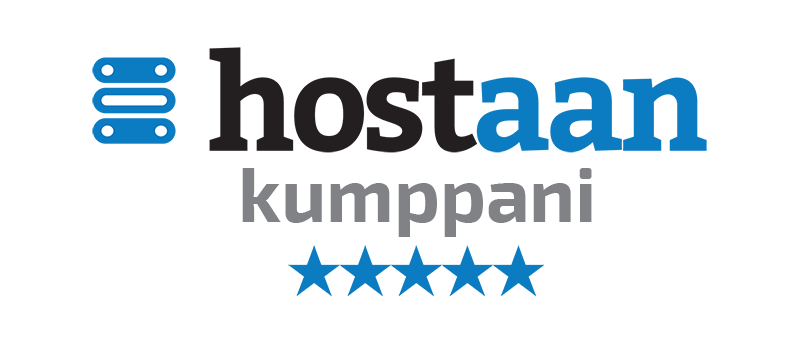 | | |
| --- | --- |
| | WordPress is the most popular web content management system in the world. This means constantly good availability and data security, as well as nearly limitless feature capabilities. In case you're into technology, we tend to use the native Gutenberg editor and implement design changes with a custom child theme. As the parent theme, we tend to use the lightweight and versatile Astra. This gives a site that is as fast, available, easy to modify and data secure, as possible. In case you want to have a more visual editing environment, we know the Elementor page builder as well. We create new or modified PHP page templates when needed. If you need something done on WordPress, drop us a line! |
| | WooCommerce is the most popular e-commerce platform in the world, and technically a plug-in to WordPress. Benefits to the storekeeper are the same as with WordPress itself; continuing support, developing data security and nearly limitless scalability with the help of plug-ins. WooCommerce can do large, multi-vendor stores or just a few products, or even campaign sales only. Before doing stores to others, we did one for ourselves and ran it for three years. We do have first hand insight of availability and feature development for a web shop. What would you like to sell? |