Take your web presence seriously
It's so great to get help from Dynamit:
Your site is up in no time, getting you noticed
The content and visuals are consistently of high quality
You have time to do what you're paid for
Also, you make sure, that:
Your site is optimised for search engines
Data security and availability are up to date
Pages open fast and correctly in all devices
Dynamit provides a continuum of web presence, growing to your needs. Pick a level to start with and grow as you go. Create content and design as you wish, or leave it all to us. The Publish package has everything you need plus 5 email addresses to your domain name, in an easy package. A web site project couldn't be easier. Within a week of providing all agreed material, the site is up. We use the WordPress content management system (CMS). Learn what we've done already.
Do you lack a domain name? Traficom registers the .fi domains. You can have the domain registered from any provider or we can register it for you. Or you can have an existing domain name transferred from an existing site to point to the new site. We'll help!
Single page solution to tell the necessary in a compact form and collect contacts for further discussions. You deliver the basic information, your logo, possible other pictures and book a couple of hours for an interview. We deliver the published site. Includes one interview-production-comment round. Free stock photo imagery, photo shooting for an additional fee.
Prefer to create the content on your own? Choose the Empty Starter Page.
Content elements
Main picture with text
Page navigation
Text and picture elements
Team introduction with pictures
Contact info, links and maps
Contact form
Social media links
Privacy policy
You get
Your custom colours and typeface
Layout as you desire
Text content based on the interview
Pictures that you provide, or free stock photos
You provide
Basic information: Business ID/VAT, contact info, social media accounts etc.
Logo and other pictures you wish to include
Time for interview and commenting
Like the Starter Page, but you create all the content. You get a page template with your custom colours, typefaces, logo, and content elements. You import the pictures you need and write the texts. Requires basic WordPress skills.
With the Starter Page, you get your site up and running. Later it can be developed into a full-blown site or even a web shop.
The Publish Package is the easiest way to publish your site and make sure it runs smoothly and reliably. You also get email addresses to match with your domain name and support for all site management and further development.
If the Starter Page just isn't enough for you, drop us a line and tell what you need.
Well that was easy! Dynamit quickly grasped the specifics of my business and uncovered the benefits to client. Their proficiency was strong not only in web development, but also in putting ideas into words and visual representations – imagery and brand colours were included in the project. I got help in developing web visibility, plus the English translations were provided in a breeze.

Quick and comprehensive care of the client!

Maija Talvinen, Wilma Consulting Oy
Publish Package
15 €/month
Up front in 12 month periods +VAT 24%
The Publish Package really is a turn-key site delivery. We transfer or register the domain, publish and host the site, back up data, update the backend, solve any issues and even make small content changes for you.
The final touch of your great web presence is the email address matching your domain name. Look great!
Domain registration costs charged separately.
Publish Package includes
Domain name and hosting
5 email addresses to your domain (more available)
Minor text updates
Backups
Updates ensuring site availability and data security
Issue resolving and minor fixes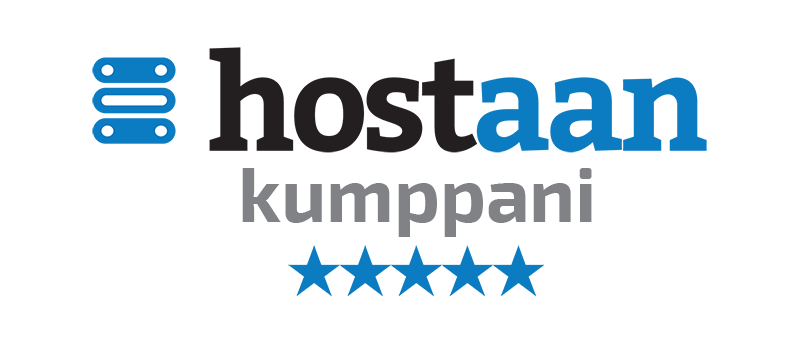 | | |
| --- | --- |
| | WordPress is the most popular web content management system in the world. This means constantly good availability and data security, as well as nearly limitless feature capabilities. In case you're into technology, we tend to use the native Gutenberg editor and implement design changes with a custom child theme. As the parent theme, we tend to use the lightweight and versatile Astra. This gives a site that is as fast, available, easy to modify and data secure, as possible. In case you want to have a more visual editing environment, we know the Elementor page builder as well. We create new or modified PHP page templates when needed. If you need something done on WordPress, drop us a line! |
| | WooCommerce is the most popular e-commerce platform in the world, and technically a plug-in to WordPress. Benefits to the storekeeper are the same as with WordPress itself; continuing support, developing data security and nearly limitless scalability with the help of plug-ins. WooCommerce can do large, multi-vendor stores or just a few products, or even campaign sales only. Before doing stores to others, we did one for ourselves and ran it for three years. We do have first hand insight of availability and feature development for a web shop. What would you like to sell? |